Urania Connections Home
Urania Motor Company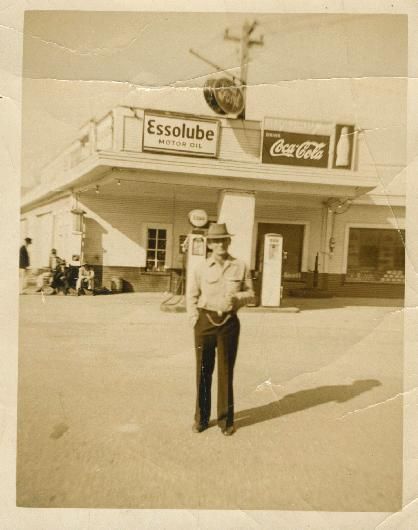 This facility stood for many years where the present Urania Town Hall now sits. It was owned like every other business and building in town by The Urania Lumber Company. The Ford agency consisted of the sale of automobiles and trucks, repair garage and gasoline sales. For many years, it was under the supervision of the commissary manager but sometime around the mid nineteen forty's, the management was divested from that supervision and Richard "Dick" Walsh was selected as manager. That situation continued until the company sold out to Georgia Pacific Corporation, then later to Louisiana Pacific.
In the above photo, the gasoline pumps had been converted to modern day ones but in the old days, they were where the gasoline was pumped up into glass container by a hand pump and drained out by gravity into cars. Those glass containers were indicated by makers inside which showed the gallons dispensed. In the photo where there are a group of men sitting was located the kerosene tank. In those days, the company furnished DC electricity to town residences and that was shut down at emergencies, consequently the need for kerosene.
Some of the garage foremen were Ben Farmer, Doris "Dobbin" Dearman and Emery Woodward. Timekeeper/bookkeepers were Rudolph "Snoz" Schultz and Carl "Flatboat" Hudson. Parts men were "Red" Herrington, Paul Gough and J. E. Steely.
The photo above is the best we could find and the man standing in front is Meredith Hilton "Bud" Barnum, husband of Maggie Sue (Jackson) Barnum, the parents of four of the prettiest girls to ever grace the streets of Urania!! Those girls are Evelyn Raye, my wife of 67 ½ years as of today, 10 March 2014, Jane wife of Robert "Bob" Walker, deceased, Elaine (deceased) wife of Jerry Mack Harris and Sue, wife of Jimmy Kees who is also deceased. 
E. Forrest Cook - 10 March 2014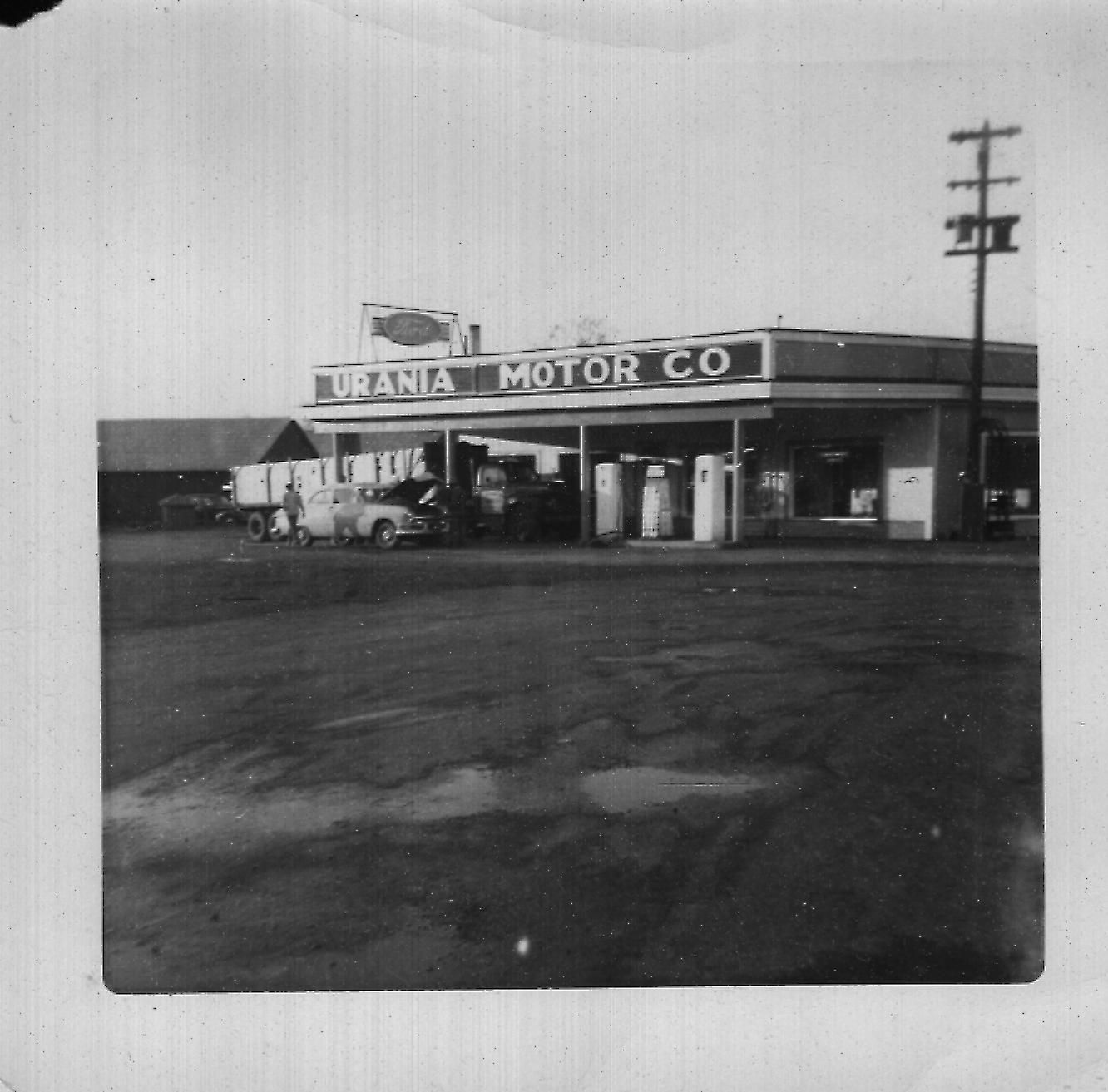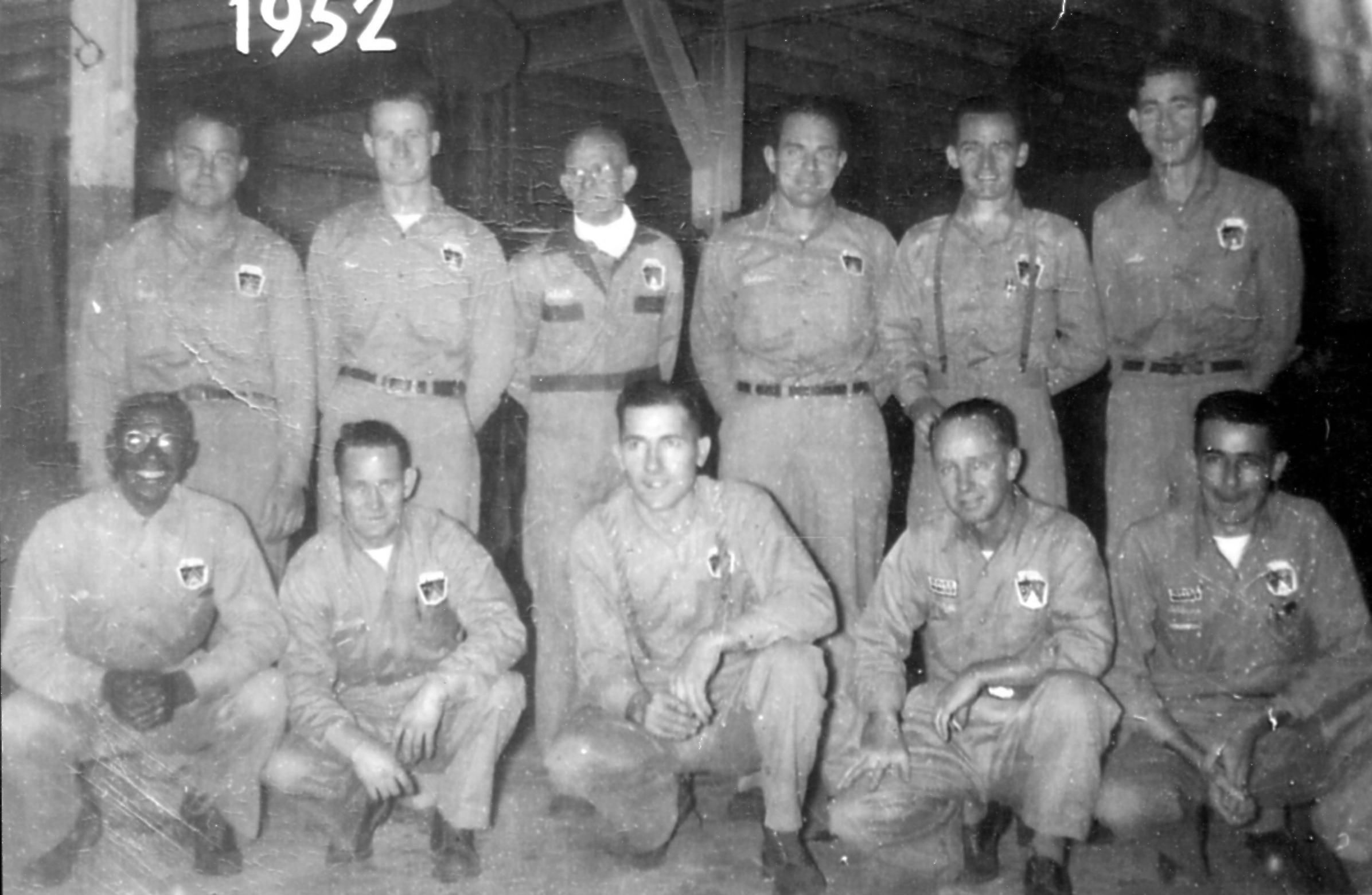 Garage crew 1952