Myrtle Lee Cook
1903 - 1994
Mrytle Cook was born September 4, 1903 in Urania to John H. Cook and Mary Ann Pilcher. She was the fourth child born to the couple, but their first two sons had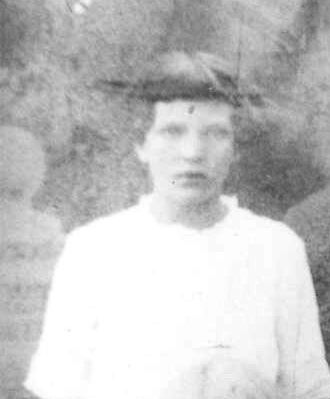 died in 1900. She had five siblings who survived to adulthood.

Myrtle grew up around Urania and attended the old two-story Urania school, which was across the street from the present-day Urania Jr. High.

Myrtle's father died when she was ten years old.

On February 1, 1923, she married Hardy M. Cook in Olla. Myrtle and Hardy had six chldren, the oldest being Forrest, born in 1925, and the youngest, Michial, born 1950. When her youngest was born, she already had two grandchildren.

There is a family story that Myrtle didn't know that she was pregnant with Michial, and the night he was born, her husband had to go wake up the man from the commissary in order to get diapers and other things for the baby. When my Papaw Cook was in the nursing home in 1995, I asked him about this. How could she not know she was pregnant. His answer was, "Oh, she knew". But apparently she was in denial until the baby was born.

Mamaw Cook was a sweet woman who loved to travel. When she was a young mother, the family went to visit relatives in California. In her later years she was able to travel to Puerto Rico and to Scotland.

She could make some of the best biscuits. One of my favorite memories of her is that after a family gathering, when it was time to go, she would say, "It's time to start hugging."

She died October 31, 1994, at the age of 91, and is buried in the Forest Lawn Cemetery in Pineville.


Myrtle with Forrest and Olive about 1928

Hardy and Myrtle - 1950

Myrtle and sisters Dottie Mae (L) an Edna (R)

Myrtle, Mike, Hardy, about 1960
Hardy M. Cook and Mrytle L. Cook Family Group Sheet