John H. Cook
1876 - 1913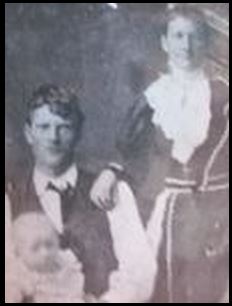 John H. Cook was born on February 14, 1876, in Franklin Parish, Louisiana. His parents were Henry Cook and Sarah L. Martin. Sarah died when John was a baby, and Henry married Mary Howington in 1877.
Later, Henry moved his family to Catahoula (now LaSalle) Parish, near Urania. On January 17, 1898, John married Mary Ann Pilcher in Winn Parish. In October of that year, they had a baby boy, Quitman. The next year, another son, Harvey, was born. Sadly, both babies died in 1900.
In 1901, another baby boy was born, and in the next twelve years, five more children came along. These six all survived to adulthood.
John served as constable of Urania before his death. He died of pheumonia on March 23, 1913, at the age of 37. He is buried at the Urania Cemetery.
| | |
| --- | --- |
| | |
| The Jena Times - September 2, 1911 | The Jena Times - February 3, 1912 |
Children of John H. Cook and Mary Ann Pilcher
| | | |
| --- | --- | --- |
| | | |
| Lemmie D. "Spout" Cook | Myrtle Lee Cook | Edna Cook with husband Willie Wilson |
John H. Cook and Mary Pilcher Family Group Sheet