John Clayton Cook
1851 - 1914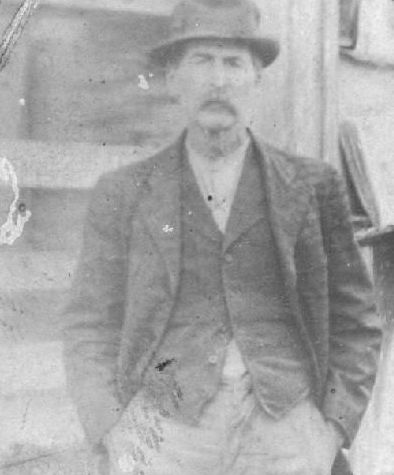 John Clayton Cook was born in Jackson County, Alabama, on May 16, 1851 to Richard M. Cook and Elizabeth Sullivan. He was the oldest of their eight children. When John was still a small boy, his family moved to Louisiana, first to Jackson Parish and later to Winn Parish near the Goodwater Community. The famiy attended the Hebron Baptist Church in Winn Parish.
Early in the 1870s John married Francis Jane King, daughter of William Smith King and Sarah Ann Jones. When the elder Kings moved to Red River County, Texas, John and Francis moved with them.
John and Francis had four children, and then Frances died in 1890. She is buried in the Salem Baptist Church Cemetery in Box Elder, Red River County, Texas.
On December 24, 1890, John married Anna Virginia Cole. John and Anna had two sons and a daughter in Texas, then the family moved to join John's relatives back in Louisiana. By this time, his parents and siblings lived in Rapides Parish. In Rapides, John and Anna had another son and two daughters. According to the 1910 census, Anna had two other children who did not survive.
After 1910, John and his famiy moved to Crowville, Fraklin Parish, Louisiana, where he died September 21, 1914 at the age of 63. He is buried in an unmarked grave, probably in the Sand Hill Cemetery in the Lamar Community in Franklin Parish.
Obituary form the Alexandria Town Talk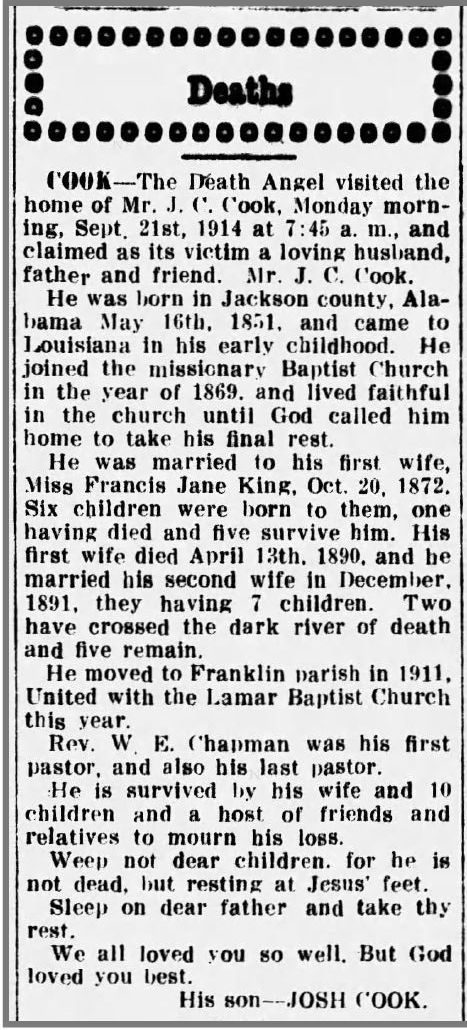 Photos of John Clayton Cook's Children
John Clayton Cook and Francis Jane King Family Group Sheet
John Clayton Cook and Anna Virginia Cole Family Group Sheet