Mary Eliza Roberts
1858 - 1941
Mary Eliza Roberts was born July 3, 1858, in Winn Parish, Louisiana. Her parents were John A. Roberts and Mary Ann Sayre/Sayers.
When Mary was about 17 years old, she married George Wilson Pilcher. They had four daughters together.
Mary and George seperated in the 1880s. Mary lived her whole life in and around Urania.
Mary died January 20,1941 and is buried in the Pine Hill Cemetery.
< Mary Eliza Pilcher (left) with her sister, Amanda Roberts.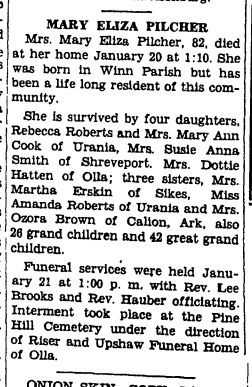 George Wilson Pilcher and Mary Eliza Roberts Familiy Group Sheet