Henry Cook
1842 - 1891
Henry Cook was born between 1842 and 1844 in Sumter County, Alabama. His was the third son of James Cook and Priscilla Sims. When the census taker visited the family in 1850, they lived in the New York Division of Sumter County. By 1860, they had moved to Winnsboro in Franklin Parish, Louisiana.
On August 21, 1861, Henry married Sarah L. Martin Montgomery, widow of John Montgomery, in Franklin Parish.
On February 22, 1862, Henry joined the Confederate Army in Winnsboro. He was assigned to Company E, 8th Regiment Louisiana Infantry. For much of that year, he was sick and absent from active duty. Communicable diseases, such as measles, were rampant among the troops during the Civil War, and more soldiers died from them than from battle. On May 4, 1863, however, he was present for the engagement at Fredericksburg. He was also present June 14 at Winchester. Then on July 2, the second day of the Battle of Gettysburg, he was wounded by a rifle ball. For the company's next engagement in November he was absent without leave, and there are no more records of his service.
Henry's oldest brother William had died in 1862 at Lynchberg and his brother John was killed at Gettysburg on the same day that Henry was wounded. One could imagine that he felt he had given enough to the cause.
Henry returned home and in January of 1864 Sarah gave birth to their first child, Mary Francis "Molly" Cook. Two more children were born and then Sarah died in 1876 or 1877.
On November 4, 1877, Henry married Mary Howington. In 1880 the family lived in the 3rd Ward, Richland Parish. Henry and Mary had four children, after which Mary died.
On April 4, 1891, Henry married Allie Mosely in Caldwell Parish. Later that year he died in LaSalle Parish. Henry's burial place is unknown. He has a Confederate Veteran memorial marker in the Urania Cemetery.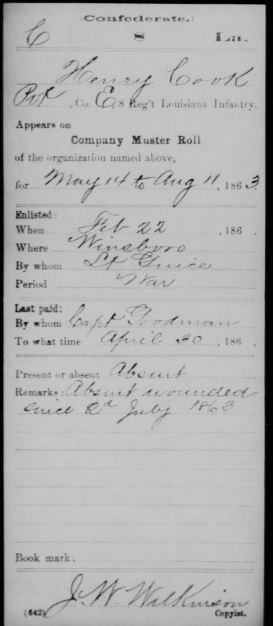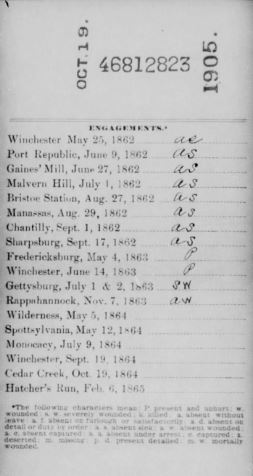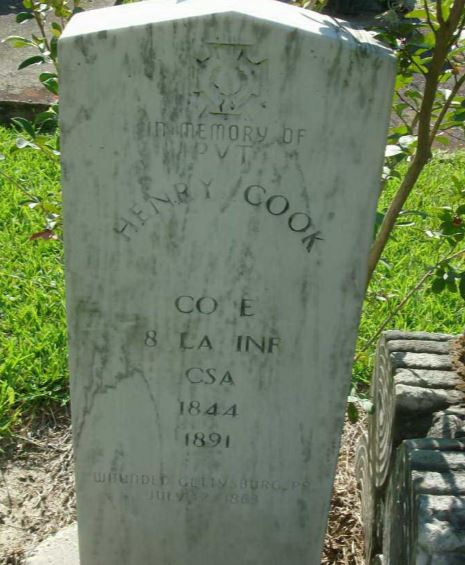 Henry Cook and Sarah L. Martin Familiy Group Sheet
Henry Cook and Mary Howington Family Group Sheet